Adrian Peterson Biography

Back to Sports
Back to Football
Back to Biographies

Adrian Peterson is an NFL running back for the Minnesota Vikings. He combines strength, speed, and elusiveness to be one of the best running backs in the game today.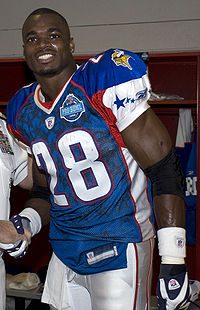 Source: US Navy



Where did Adrian Peterson grow up?

Adrian was born in Palestine, Texas on March 21, 1985. He grew up in Palestine and attended Palestine High School where he was an exceptional athlete. Growing up near Dallas, Adrian was a huge Cowboys fan and his favorite player was Emmitt Smith.

Adrian had a tough childhood. His parents divorced when he was young. Then his older brother was killed by a drunk driver when Adrian was 7. When he was 13 his father was arrested and sent to jail. Fortunately his mother was strong and managed to give him a good home.

Adrian was a standout football player at a young age. He also was a star on his high school's track team. Because he had moved, he couldn't play football until his junior year, but he made up for lost time by rushing for more than 2,000 yards and scoring 22 touchdowns. His senior year he was one of the elite backs in the nation rushing for 2,960 yards and 32 touchdowns.

What college did Adrian Peterson attend?

Adrian had his choice of colleges and selected Oklahoma. His freshman year was one of the greatest freshman seasons ever by a college football player. He rushed for 1,925 yards and finished second in the Heisman voting. This was the highest ever by a freshman. His next two years were somewhat disappointing by comparison as he wasn't able to play all the games due to injury. After his junior year, Adrian decided to enter the NFL draft and go pro.

The Minnesota Vikings

The Vikings selected Peterson with the 7th overall pick in the NFL draft. They were not disappointed. In his rookie season Adrian rushed for 1,341 yards and 12 touchdowns and was named the NFL Offensive Rookie of the Year. He also set the NFL record for most yards in a game, rushing for 296 yards against the San Diego Chargers.

Adrian has continued his great rushing performances ever since and has been consistently one of the best players in the NFL. One problem he had early in his career was fumbling, however, in the 2010 season he only fumbled once. He has been selected to the NFL Pro Bowl every year he's played a full year in the league.

In 2012, Adrian returned from a devastating injury to rush for 2,097 yard. He missed breaking the all time record by just nine yards. He was named the 2012 NFL MVP.

Fun Facts about Adrian Peterson
Adrian has the nicknames A.D. for "all day" and Purple Jesus.
One time in high school Peterson ran for 350 yards and 6 TDs. All in one half!
In addition to football and track, he also starred on his high school basketball team.
Adrian's dad was a star basketball player for Idaho State. He was hoping to play in the NBA until he got injured in an accident and couldn't play any longer.
His mother was a track and field star at the University of Houston.
Adrian wears the number 28. He wanted the 29 in high school because it was Eric Dickerson's number. He didn't get it so he took 28 and it's been his number ever since.
Other Sports Legend's Biographies: