The region of Oceania and Australia includes the continent of Australia as well as many surrounding island countries. It is located to the southeast of Asia. Australia is the smallest continent by size and the second smallest in terms of population. Oceania and Australia are surrounded by the Indian Ocean and the Pacific Ocean. Today, Australia is one of the world's most successful economies (GDP per capita) and New Zealand was rated the top country in the world in terms of political freedoms.

Much of the region's land mass is desert, but there are also very lush areas. Oceania has some very unique animal life for such a small region. Some examples are the koala (which is not really a bear, but a marsupial), the platypus, and the kangaroo. Oceania is also home to the Great Barrier Reef, the largest coral reef in the world and one of the most complex ecosystems on the planet.

Population: 36,593,000 (Source: 2010 United Nations)

Area: 3,296,044 square miles

Ranking: Australia is the seventh largest (smallest) and sixth most populous continent

Major Biomes: rain forest, desert, savanna, temperate forests

Major cities:
Sydney, Australia
Melbourne, Australia
Brisbane, Australia
Perth, Australia
Adelaide, Australia
Gold Coast, Australia
Auckland, New Zealand
Manukau, New Zealand
Christchurch, New Zealand
Canberra, Australia
Bordering Bodies of Water: Indian Ocean, Pacific Ocean, Philippine Sea, Tasman Sea, Coral Sea

Major Rivers and Lakes: Lake Gairdner, Lake Carnegie, Lake Taupo, Lake Murray, Murray River, Murrumbidgee River, the Darling River

Major Geographical Features: Great Dividing Range, MacDonnell Ranges, Australian Alps, Great Victorian Desert, Tanami Desert, Great Artesian Basin, Great Barrier Reef (in the Coral Sea), Southern Alps, South Island
Countries of Oceania and Australia
Learn more about the countries from Oceania and Australia. Get all sorts of information on each country including a map, a picture of the flag, population, and much more. Select the country below for more information:


Coloring Map
Color in this map to learn the countries of Oceania.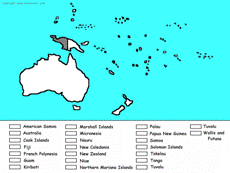 Click to get a larger printable version of map.
Fun Facts about Oceania and Australia
Much of Oceania is sparsely populated and there are more sheep in Oceania than people.

Australia was used as a prison colony by Britain where they would send unwanted criminals and outcasts.

The name Australia means "land of the south".

There are less people that live in Australia than in the US state of Texas.

Oceania is located in the southern hemisphere. This means that it has winter during June, July, and August and summer during the months of December, January, and February.

Other Maps

Geography Games:

Oceania Map Game
Oceania Crossword
Oceania and Australia Word Search

Other Regions and Continents of the World: Back to Geography