Early Islamic World
Overview
History for Kids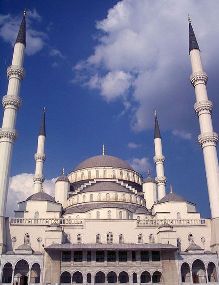 Mosque - An Islamic Place of Worship

Kocatepe Mosque in Ankara, Turkey

Author: Noumenon via Wikimedia Commons


The Early Islamic World was a period of rapid expansion for both the Islamic Empire and the religion of Islam. While Europe was languishing in the dark ages, the Middle East was experiencing a time of economic prosperity and scientific advancement. In this section, we cover the Islamic Empire from the start of Islam (610 CE) to the fall of the Ottoman Empire (1924).

Islam

The religion of Islam was founded in 610 CE by the Prophet Muhammad in the city of Mecca (modern day Saudi Arabia). The religion soon spread throughout the region and had a major impact on the culture of the Middle East and North Africa throughout the Middle Ages.

Caliphate

After Muhammad died, the Islamic government was called the "Caliphate" and was ruled by a "Caliph." The first four Caliphs were all taught Islam by Muhammad and were called the "Rightly Guided" Caliphs. They were followed by the first Islamic dynasty called the Umayyad Caliphate. In 750 CE, the Abbasid Caliphate took control and ruled for 500 years. The Islamic Golden Age took place during the Abbasid Caliphate.

Expanse of the Empire

The Islamic Empire expanded throughout the Middle Ages to become one of the largest empires in the history of the world. It controlled the Middle East, northern Africa, the Iberian peninsula (Spain), and parts of Asia into India.

Islamic Golden Age

The Islamic Golden Age was a period when science, culture, technology, education, and the arts flourished throughout the Islamic Empire. This period lasted from around 790 CE to 1258 CE. The cultural center during this time was the city of Baghdad which also served as the capital of the Abbasid Caliphate.

Interesting Facts about the Early Islamic World
Early Islamic art seldom included figures of humans or animals to avoid creating idols that people would worship.
There were several capital cities of the Caliphate throughout history. Some of the major capitals included Medina, Damascus, Baghdad, Cairo, and Istanbul.
The Islamic Golden Age came to an end when the Mongols sacked the city of Baghdad in 1258 CE.
There are "Five Pillars of Islam" that form the framework of the religion of Islam. They are 1) Shahadah (declaration of faith) 2) Salat (prayer) 3) Zakat (charity) 4) Fasting 5) Hajj (pilgrimage).
At its peak, the Umayyad Caliphate was one of the largest empires in world history. It governed around 28% of the world's population.
Activities
Crossword Puzzle
Word Search
More on the Early Islamic World:
Works Cited
History for Kids