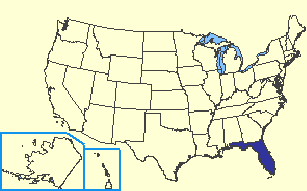 Capital: Tallahassee

Population: 21,299,325 (Source: 2012 U.S. Census)

Major Cities: Jacksonville, Miami, Tampa, St. Petersburg, Orlando, Hialeah, Tallahassee

Borders: Alabama, Georgia, Gulf of Mexico, Atlantic Ocean

Gross Domestic Product (GDP): $777,164 million (2012 U.S. Department of Commerce)

Key Industries:
Agriculture including oranges, other citrus fruits, sugarcane, corn, green beans, and tomatoes
Tourism, banking, aerospace, biotechnology, and electronics

How Florida got its name: Florida was named by Spanish Explorer Ponce de Leon. He called the land Pascua Florida, which means Flowery Easter.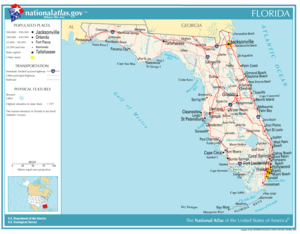 Click on map for larger view
Florida State Symbols
State Nickname: Sunshine State

State Slogan: Visit Florida; MyFlorida.com

State Motto: In God we trust (1868)

State flower: Orange blossom

State bird: Mockingbird

State fish: Largemouth bass (fresh water), Atlantic Sailfish (salt water)

State tree: Sabal Palm

State mammal: Florida panther, Manatee, Bottle-nosed dolphin

State foods: Orange Juice, Key Lime Pie, Oranges


Becoming a State
Date admitted: Monday, March 3, 1845

Number admitted: 27

Prior Name: Florida Territory

Postal Abbreviation: FL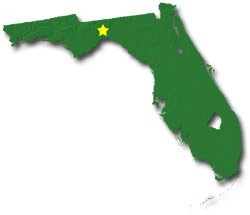 The Geography of Florida
Total Size: 53,927 sq. miles (source: 2003 Census)

Geographical Low Point: Atlantic Ocean at Sea Level (source: U.S. Geological Survey)

Geographical High Point: Britton Hill at 345 feet, located in the county/subdivision of Walton (source: U.S. Geological Survey)

Central Point: Located in Hernando County approx. 12 miles north-northwest of Brooksville (source: U.S. Geological Survey)

Counties: 67 (source: National Association of Counties)

Bodies of Water: Gulf of Mexico, Atlantic Ocean, Tampa Bay, Lake Okeechobee, St. Johns River, Suwannee River, Caloosahatchee River, Lake Tohopekaliga, Lake George


Famous People
Faye Dunaway - Actress
Chris Evert - Professional tennis player
Debbie Harry - Singer for the group Blondie
Chipper Jones - Baseball player
Roy Jones, Jr. - Championship boxer
Jim Morrison - Lead singer for the Doors
Tom Petty - Singer and songwriter
Sidney Poitier - Actor
Philip Randolph - Civil rights activist
Bob Ross - Painter
Emmitt Smith - Professional football player
Vanilla Ice - Rapper
Bubba Watson - Golfer
Fun Facts
You can see the Space Shuttle launch from Kennedy Space Center at Cape Canaveral, Florida.
Ponce de Leon was hoping to find the Fountain of Youth when exploring in Florida.
St. Augustine, Florida was founded in 1565 and is the oldest permanent city in the United States.
Walt Disney World in Orlando, Florida is the number one tourist destination in the world.
Florida is sometimes called the Alligator State because of all the alligators that live there. Also, the University of Florida's mascot is the Gator. This is where Gatorade was first invented.
The highest rate of lighting strikes in the US is in Clearwater, FL.
You may think that Florida is the southernmost state in the US, but Hawaii is actually further south.
The highest average temperature in the US is in Key West.
There are two rivers in Florida that both have the same name! They are both called Withlacoochee.
Professional Sports Teams
Florida Panthers - NHL (hockey)
Jacksonville Jaguars - NFL (football)
Miami Dolphins - NFL (football)
Miami Heat - NBA (basketball)
Miami Marlins - MLB (baseball)
Orlando Magic - NBA (basketball
Tampa Bay Buccaneers - NFL (football)
Tampa Bay Rays - MLB (baseball)
Tampa Bay Lightning - NHL (hockey)


Geography >> US States>> Florida History

For state symbols, flag, maps, geography, and fun facts: