Capital: Canberra

Population: 25,203,198
The Geography of Australia
Borders: Australia is an island and a continent. It shares no land borders with any other country. It borders the Pacific Ocean to the east and the Indian Ocean to the west. Other island countries nearby Australia include East Timor, Papua New Guinea, Solomon Islands, Indonesia, and New Zealand.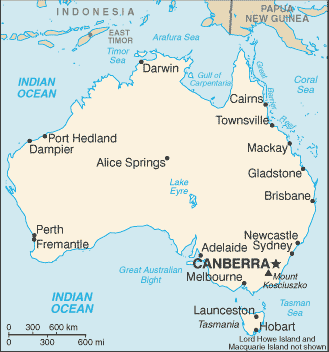 Total Size: 7,686,850 square km

Size Comparison: slightly smaller than the US contiguous 48 states

Geographical Coordinates: 27 00 S, 133 00 E

World Region or Continent: Oceania

General Terrain: mostly low plateau with deserts; fertile plain in southeast

Geographical Low Point: Lake Eyre -15 m

Geographical High Point: Mount Kosciuszko 2,229 m

Climate: generally arid to semiarid; temperate in south and east; tropical in north

Major Cities: Sydney 4.429 million; Melbourne 3.853 million; Brisbane 1.97 million; Perth 1.599 million; CANBERRA (capital) 384,000 (2009)

Major Landforms: Great Dividing Range, MacDonnell Ranges, Ayers Rock (Uluru), Mount Augustus, Australian Alps, Great Victorian Desert, Tanami Desert, Great Artesian Basin, Tasmania Island, Great Barrier Reef (in the Coral Sea)

Major Bodies of Water: Great Australian Bight, Coral Sea, Timor Sea, Gulf of Carpentaria, Tasman Sea, Lake Gairdner, Lake Carnegie, Lake Eyre, Murray River, Murrumbidgee River, the Darling River, the Pacific Ocean, the Indian Ocean.

Famous Places: Sydney Opera House, Ayers Rock (Uluru), Bondi Beach, Sydney Harbor Bridge, Great Barrier Reef, Kakadu National Park, Port Authur (Tasmania), Kangaroo Island, 12 Apostles (limestone rocks off the ocean)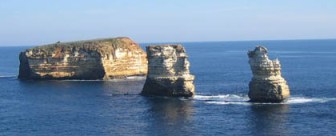 The 12 Apostles
Economy of Australia
Major Industries: mining, industrial and transportation equipment, food processing, chemicals, steel

Agricultural Products: wheat, barley, sugarcane, fruits, cattle, sheep, poultry

Natural Resources: bauxite, coal, iron ore, copper, tin, gold, silver, uranium, nickel, tungsten, mineral sands, lead, zinc, diamonds, natural gas, petroleum

Major Exports: coal, gold, meat, wool, alumina, iron ore, wheat, machinery and transport equipment

Major Imports: machinery and transport equipment, computers and office machines, telecommunication equipment and parts; crude oil and petroleum products

Currency: Australian dollar (AUD)

National GDP: $915,100,000,000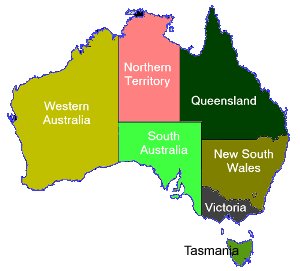 Government of Australia
Type of Government: federal parliamentary democracy

Independence: 1 January 1901 (federation of UK colonies)

Divisions: Australia is politically divided into six states: Queensland, New South Wales, South Australia, Victoria, Western Australia, and Tasmania. The largest state in population is New South Wales with Victoria and Queensland coming in second and third. In the middle of the country is a large territory, called the Northern Territory, which is not a state. See the map to the right for the location of each state.

National Anthem or Song: Advance Australia Fair

National Symbols:
Animal - Kangaroo, Koala
Bird - Emu
Colors - Green and Gold
Flower - Golden Wattle
Gemstone - Opal
Commonwealth Star - A seven pointed star where six of the points represent the states and the seventh point represents Australia's territories.
Southern Cross - A constellation that is visible from the Southern Hemisphere.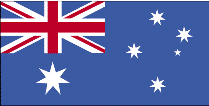 Description of flag: The Australian Flag was adopted in 1901. It has a blue background with the Union Jack (the flag of the United Kingdom) in the upper left corner. It has a large white commonwealth star with seven points below the Union Jack. The right side has five stars that represent the Southern Cross constellation.

National Holiday: Australia Day, 26 January (1788)

Other Holidays: New Years' Day (January 1), Australia Day (January 26), Good Friday, Easter Monday, Anzac Day (April 25), Queen's Birthday (2nd Monday in June), Labour Day (1st Monday in October), Christmas Day (December 25), Boxing Day (December 26)
The People of Australia
Languages Spoken: English 79.1%, Chinese 2.1%, Italian 1.9%, other 11.1%, unspecified 5.8% (2001 Census)

Nationality: Australian(s)

Religions: Catholic 26.4%, Anglican 20.5%, other Christian 20.5%, Buddhist 1.9%, Muslim 1.5%, other 1.2%, unspecified 12.7%, none 15.3% (2001 Census)

Origin of the name Australia: The name 'Australia' comes from the Latin word australis which means 'southern.' It got the name because it was often referred to as the 'terra australis' (southern land) in early documents.

Famous People:
Macfarlane Burnet - Medical researcher
Russell Crowe - Actor
Mel Gibson - Actor
Steve Irwin - Crocodile hunter and naturalist
Hugh Jackman - Actor
Nicole Kidman - Actress
Kylie Minogue - Singer
Rupert Murdoch - Entrepreneur and publisher
Olivia Newton-John - Singer and actress
Greg Norman - Professional golfer
Andres 'Banjo' Patterson - Poet
Ian Thorpe - Swimmer
Keith Urban - Country music singer


Geography >> Oceania >> Australia History and Timeline


** Source for population (2019 est.) is United Nations. GDP (2011 est.) is CIA World Factbook.