US History
The Monroe Doctrine
History >> US History before 1900

President James Monroe introduced the Monroe Doctrine in 1823. The doctrine established the foreign policy of the United States regarding the Western Hemisphere for many years to come.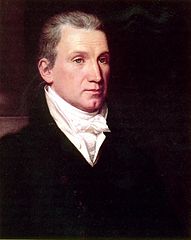 President James Monroe

by William James Hubbard

What did the Monroe Doctrine say?

The Monroe Doctrine had two major points.

1) That the United States would not allow European countries to start new colonies or to interfere with independent countries in the continents of North America or South America.
2) That the United States would not interfere with existing European colonies nor get involved with conflicts between European countries.

Why did President Monroe establish this new doctrine?

Many countries in South America had just gained their independence from European empires such as Spain and Portugal. At the same time, with the defeat of Napoleon in Europe, Madison was afraid that European nations would once again try to establish power in the Americas. Madison wanted to let Europe know that the United States would not allow the European monarchies to regain power in the Americas.

Effects of the Monroe Doctrine

The Monroe Doctrine had a long lasting impact on the foreign policy of the United States. Presidents throughout history invoked the Monroe Doctrine when intervening in foreign affairs in the Western Hemisphere. Here are some examples of the Monroe Doctrine in action.
1865 - The U.S. government helped to overthrow Mexican Emperor Maximilian I who was put in power by the French. He was replaced by President Benito Juarez.
1904 - President Theodore Roosevelt added the "Roosevelt Corollary" to the Monroe Doctrine. He used the doctrine to stop what he called "wrongdoing" in several countries. It was the beginning of the U.S. acting as an international police force in the Americas.
1962 - President John F. Kennedy invoked the Monroe Doctrine during the Cuban Missile Crisis. The U.S. placed a naval quarantine around Cuba to prevent the Soviet Union from installing ballistic missiles on the island.
1982 - President Reagan invoked the Monroe Doctrine to fight communism in the Americas including countries such as Nicaragua and El Salvador.
Interesting Facts About the Monroe Doctrine
The term "Monroe Doctrine" wasn't used to describe these policies until many years later in 1850.
President Monroe first presented the doctrine during his State of the Union Address to Congress on December 2, 1823.
President Monroe also wanted to stop the influence of Russia in western North America.
President Franklin D. Roosevelt shifted the use of the Monroe Doctrine from the "Big Stick" policy of Teddy Roosevelt to a "Good Neighbor" policy.
Secretary of State, and future president, John Quincy Adams was one of the main authors of the doctrine.
Activities
Take a ten question quiz about this page.


Listen to a recorded reading of this page:

Your browser does not support the audio element.


Works Cited

History >> US History before 1900