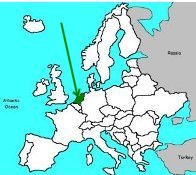 Geography >> Europe >> Netherlands History and Timeline
The Netherlands
Capital: Amsterdam

Population: 17,097,130
The Geography of Netherlands
Borders: Belgium, Germany, maritime (water) border with the United Kingdom, North Sea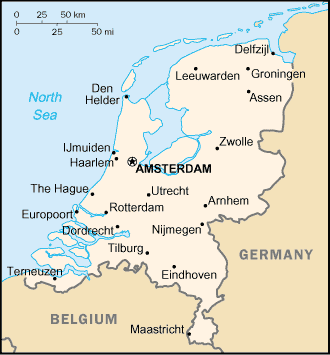 Total Size: 41,526 square km

Size Comparison: slightly less than twice the size of New Jersey

Geographical Coordinates: 52 30 N, 5 45 E

World Region or Continent: Europe

General Terrain: mostly coastal lowland and reclaimed land (polders); some hills in southeast

Geographical Low Point: Zuidplaspolder -7 m

Geographical High Point: Vaalserberg 322 m

Climate: temperate; marine; cool summers and mild winters

Major Cities: AMSTERDAM (capital) 1.044 million; Rotterdam 1.008 million; The Hague (seat of government) 629,000 (2009)

Major Landforms: Around 20 percent of the Netherlands is located below sea level. It is protected by a series of dikes, sea walls, and levees called the Delta Works. Most of the country is very flat except for the south where there are the foothills of the Ardennes Mountains.

Major Bodies of Water: Rhine River, Waal River, Meuse River, Wadden Sea, IJsselmeer Lake, Markermeer Lake, Eastern Scheldt estuary, North Sea

Famous Places: Amsterdam, Anne Frank House, Royal Palace, Rembrandt House Museum, Canals of Amsterdam, Leiden Canals, Delft City Hall, Keukenhof Gardens, Hoge Veluwe National Park, Rijksmuseum, Delta Works, the Peace Palace at the Hague
Economy of Netherlands
Major Industries: agroindustries, metal and engineering products, electrical machinery and equipment, chemicals, petroleum, construction, microelectronics, fishing

Agricultural Products: grains, potatoes, sugar beets, fruits, vegetables; livestock

Natural Resources: natural gas, petroleum, peat, limestone, salt, sand and gravel, arable land

Major Exports: machinery and equipment, chemicals, fuels; foodstuffs

Major Imports: machinery and transport equipment, chemicals, fuels, foodstuffs, clothing

Currency: euro (EUR)

National GDP: $701,400,000,000
Government of Netherlands
Type of Government: constitutional monarchy

Independence: 23 January 1579 (the northern provinces of the Low Countries conclude the Union of Utrecht breaking with Spain; on 26 July 1581 they formally declared their independence with an Act of Abjuration; however, it was not until 30 January 1648 and the Peace of Westphalia that Spain recognized this independence)

Divisions: The Netherlands is divided up into 12 provinces. You can see the names and locations below. The largest of the provinces by population are South Holland, North Holland, and North Brabant. The largest by size are Gelderland, North Brabant, and Friesland. Because managing water is such an important issue in the Netherlands, the country is also divided up into 24 water districts.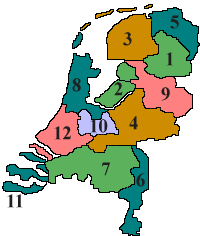 Drenthe
Flevoland
Friesland
Gelderland
Groningen
Limburg
North Brabant
North Holland
Overijssel
Utrecht
Zeeland
South Holland


National Anthem or Song: Het Wilhelmus (The William)

National Symbols:
Animal - Lion
Coat of arms - The coat of arms of the monarch of the Netherlands
Motto - I will maintain
Other symbols - Tulip, Windmill, the color orange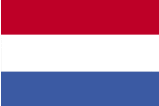 Description of flag: The flag of the Netherlands was officially adopted on February 19, 1937. It consists of three horizontal stripes of red (top), white (middle), and blue (bottom).

National Holiday: Queen's Day (Birthday of Queen-Mother JULIANA in 1909 and accession to the throne of her oldest daughter BEATRIX in 1980), 30 April

Other Holidays: New Years' Day (January 1), Good Friday, Easter, King's Day (April 27), Liberation Day (May 5), Ascension Day, Pentecost, Saint Nicholas' Eve (December 5), Christmas (December 25)
The People of Netherlands
Languages Spoken: Dutch (official), Frisian (official)

Nationality: Dutchman(men), Dutchwoman(women)

Religions: Roman Catholic 31%, Dutch Reformed 13%, Calvinist 7%, Muslim 5.5%, other 2.5%, none 41% (2002)

Origin of the name Netherlands: The name "Netherlands" comes from the Dutch word "neder" and the English word "nether." Both of these words mean "lower" and were used to describe the land as being the lowlands of the region. The country is also often referred to as Holland which is the official name for two of the provinces: South Holland and North Holland.

Famous People:
Corrie ten Boom - Hero who helped Jewish people escape the Holocaust
Armin van Buuren - DJ
Erasmus - Renaissance philosopher
Anne Frank - Writer and Holocaust victim
Vincent van Gogh - Artist
Eddie van Halen - Musician and guitarist
Mata Hari - World War I spy
Gerard Kuiper - Astronomer
Robin van Persie - Soccer player
Rembrandt - Artist
Arjen Robben - Soccer player
Jan Vermeer - Painter
Johannes van der Waals - Scientist
William III - King of England also known as William III of Orange


Geography >> Europe >> Netherlands History and Timeline


** Source for population (2019 est.) is United Nations. GDP (2011 est.) is CIA World Factbook.