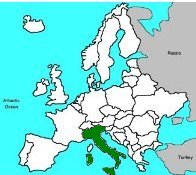 Geography >> Europe >> Italy History and Timeline
Italy
Capital: Rome

Population: 60,550,075
The Geography of Italy
Borders: France, Austria, Slovenia, Switzerland, San Marino (enclave inside Italy), Vatican City (enclave inside Italy), Mediterranean Sea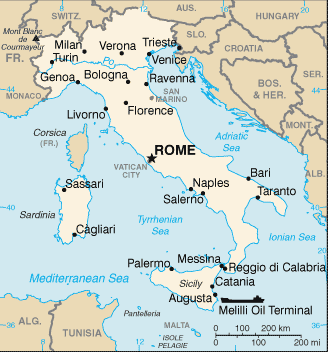 Total Size: 301,230 square km

Size Comparison: slightly larger than Arizona

Geographical Coordinates: 42 50 N, 12 50 E

World Region or Continent: Europe

General Terrain: mostly rugged and mountainous; some plains, coastal lowlands

Geographical Low Point: Mediterranean Sea 0 m

Geographical High Point: Mont Blanc (Monte Bianco) de Courmayeur 4,748 m (a secondary peak of Mont Blanc)

Climate: predominantly Mediterranean; Alpine in far north; hot, dry in south

Major Cities: ROME (capital) 3.357 million; Milan 2.962 million; Naples 2.27 million; Turin 1.662 million; Palermo 872,000 (2009), Genoa, Bologna, Florence

Major Landforms: Sicily Island, Sardinia Island, Elba, Italian peninsula, Apennine Mountains, the Alps, Mont Blanc, Matterhorn, Po Valley, Etna (active volcano), Vesuvius (active volcano)

Major Bodies of Water: Po River, Adige River, Tiber River, Arno River, Garda Lake, Maggiore Lake, Lake Como, Lake Trasimeno, Adriatic Sea, Ionian Sea, Tyrrhenian Sea, Strait of Sicily, Mediterranean Sea

Famous Places: Roman Colosseum, Roman Forum, St. Peter's Basilica, Leaning Tower of Pisa, Pantheon, Sistine Chapel, Florence Cathedral, Trevi Fountain, Amalfi Coast, Pompeii, Piazza del Campo, Canals of Venice, Lake Como, the Cinque Terre (Five Lands), Spanish Steps
Economy of Italy
Major Industries: tourism, machinery, iron and steel, chemicals, food processing, textiles, motor vehicles, clothing, footwear, ceramics

Agricultural Products: fruits, vegetables, grapes, potatoes, sugar beets, soybeans, grain, olives; beef, dairy products; fish

Natural Resources: coal, mercury, zinc, potash, marble, barite, asbestos, pumice, fluorospar, feldspar, pyrite (sulfur), natural gas and crude oil reserves, fish, arable land

Major Exports: engineering products, textiles and clothing, production machinery, motor vehicles, transport equipment, chemicals; food, beverages and tobacco; minerals, and nonferrous metals

Major Imports: engineering products, chemicals, transport equipment, energy products, minerals and nonferrous metals, textiles and clothing; food, beverages, and tobacco

Currency: euro (EUR)

National GDP: $1,847,000,000,000
Government of Italy
Type of Government: republic

Independence: 17 March 1861 (Kingdom of Italy proclaimed; Italy was not finally unified until 1870)

Divisions: Italy is divided into 20 regions. The regions are then divided into smaller provinces. The largest of these regions by population are Lombardy, Campania, Lazio, and Sicily. The largest by area are Sicily, Piedmont, Sardinia, and Lombardy.

National Anthem or Song: Il Canto degli Italiani (The Song of the Italians)

National Symbols:
Animal - Wolf
Bird - Golden eagle
Tree - Olive tree, Oak tree
Monument - Altare della Patria
Colors - Green, white, and red
Coat of arms - A white star (Star of Italy) outlined in red on a cogwheel, surrounded by oak and olive leaves
Other symbols - Star of Italy, Italia turrita
Description of flag: The Italian flag, called the "Tricolore", was adopted on January 1, 1948.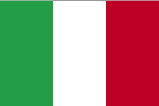 It has three equally sized vertical stripes of green (left or hoist side), white (middle), and red (right). The green can represent hope or the green hills of Italy. The white can stand for faith or the snow-capped Alps. The red can represent charity or the blood spilt during the war for independence.

National Holiday: Republic Day, 2 June (1946)

Other Holidays: New Years' Day (January 1), Epiphany (January 6), Easter Monday, International Workers' Day (May 1), Republic Day (June 2), Assumption Day (August 15), Immaculate Conception (December 8), Christmas (December 25), St. Stephen's Day (December 26)
The People of Italy
Languages Spoken: Italian (official), German (parts of Trentino-Alto Adige region are predominantly German speaking), French (small French-speaking minority in Valle d'Aosta region), Slovene (Slovene-speaking minority in the Trieste-Gorizia area)

Nationality: Italian(s)

Religions: approximately 90% Roman Catholic (about one-third regularly attend services); mature Protestant and Jewish communities and a growing Muslim immigrant community

Origin of the name Italy: The name Italy comes from the Latin "Italia." The lower region of Italy was called Italia by the early Greeks. The name may have originally come from a king named Italus or from a word meaning "land of young cattle."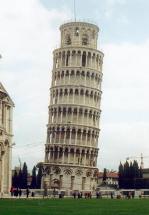 Leaning Tower of Pisa

Famous People:

Geography >> Europe >> Italy History and Timeline


** Source for population (2019 est.) is United Nations. GDP (2011 est.) is CIA World Factbook.