History >> US Geography >> US State History
New Hampshire
State History

Native Americans

The land that is today the state of New Hampshire was settled for thousands of years by various native peoples. When the Europeans arrived in the 1600s, the Algonquian peoples lived in the region including the Abenaki and Pennacook tribes. These Native Americans hunted, fished, farmed corn and beans, and lived in domed houses called wigwams.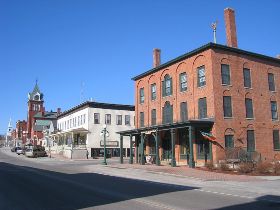 Newport, New Hampshire

by Daderot


Europeans Arrive

One of the first Europeans to visit the region was English explorer Martin Pring in 1603. Other explorers followed including Captain John Smith and French explorer Samuel de Champlain. England claimed the land after John Smith's visit and soon began to colonize the area.

Colonization

The first English settlement was a small fishing outpost near present day Rye in 1623. That same year, another settlement was established called Hilton's Point. It would later become the city of Dover.

Over the next several years, more colonists came. The living was tough, but with help from the local natives they learned to survive. The colony became known for its lumber and tall trees that were good for shipbuilding. Portsmouth became a wealthy port and shipbuilding location.

In 1679, New Hampshire was officially named a province of England. It would remain under the government of Massachusetts until 1741, when it became a separate colony. In 1764, the boundary between Massachusetts and New Hampshire was established as the Connecticut River.

Seal of New Hampshire

by Unknown


American Revolution

After the French and Indian War, the British began to tax the American colonies. The colonists did not like this and began to protest. In December of 1874, one of the first engagements of the Revolutionary War occurred when colonists from New Hampshire captured Fort William and Mary. They took the fort without firing a shot and captured much needed guns, cannon, and ammunition for the upcoming war.

Becoming a State

After the Revolutionary War, New Hampshire joined the newly formed United States. On June 21, 1788 it became the ninth state to ratify the Constitution.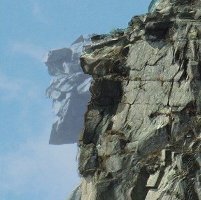 Old Man of the Mountain
by Rob Gallagher
(before and after it collapsed)
Timeline
1603 - Englishman Martin Pring explores New Hampshire.
1623 - The first settlements are established at Rye and Dover.
1679 - New Hampshire is made a province of England.
1741 - New Hampshire splits from Massachusetts and becomes an English colony.
1764 - The Connecticut River is established as the border between New Hampshire and Massachusetts.
1769 - Dartmouth College is founded in the city of Hanover.
1774 - The colonists capture guns and ammo from the British Fort William and Mary.
1788 - New Hampshire becomes the ninth state.
1808 - Concord is made the permanent capital.
1852 - Franklin Pierce becomes the 14th President of the United States.
1918 - White Mountain National Forest is established.
1945 - The Old Man of the Mountain is made the official state emblem.
1961 - Alan Shepard becomes the first American and second person to travel to space.
2003 - The Old Man of the Mountain collapses.
More US State History:



Works Cited

History >> US Geography >> US State History